FACS investment in the development and operation of Medicare Shared Savings Program (MSSP) and Commercial Accountable Care Organizations is a tale of success.   The flagship FACS MSSP ACO, Florida Physicians Trust (FPT) and FTPs sister MSSP ACO, Central Florida Physicians Trust (CFPT) have, since their inception, experienced consistent savings to Medicare.  The combined savings of FPT and CFPT from inception through the last complete performance year (2012/2013 through 2018), have saved Medicare in excess of $86 million dollars.
SNAPSHOT OF FLORIDA PHYSICIANS TRUST (FPT) AND CENTRAL FLORIDA PHYSICIANS TRUST (CFPT) COMBINED SAVINGS FOR THE FIVE YEAR PERIOD OF 2013 TO 2018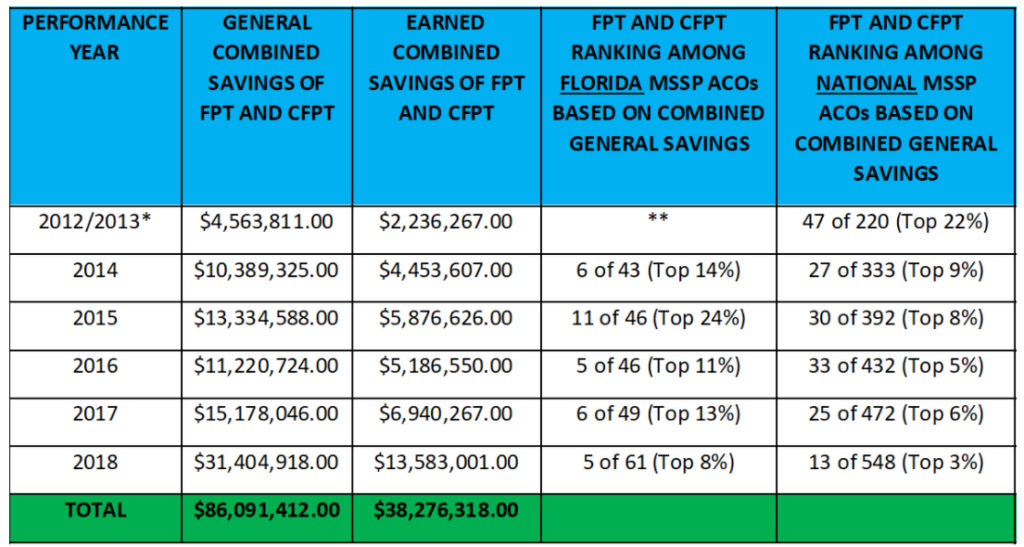 Data Source:  CMS Medicare Shared Savings Program Accountable Care Organizations Public Use Files for the period 2013 to 2018.
*Florida Physicians Trust started April 1, 2012.  Central Florida Physicians Trust started January 1, 2013.  The 2013 performance year for Florida Physicians Trust is from April 1, 2012 through December 31, 2013. The 2013 performance year for Central Florida Physicians Trust was calendar year 2013.
**State designation for MSSP ACOs in CMS Summary files not available.
The serial successes of the FACS MSSP ACOs is echoed in the success experienced by the FACS commercial ACOs operated under contractual agreements with Cigna and United Healthcare. FACS began a commercial ACO with Cigna in 2016. During the first year (2016), FACS posted a savings to Cigna of around $5 million dollars, with savings during the second (2017) and third years (2018) of $1 million dollars and $5 million dollars respectively, for a total savings over a three year period of in excess of $11 million dollars.
Member

Member's Voting Power – Expressed as a number

Membership Type

ACO Participant Legal Business
Name/DBA, if Applicable

Last Name

First Name

Title/Position

Silverman, DO

William

Chairperson

1

ACO Participant

Lake Howell Family Medicine Associates, P.A.

Janovitz, MD

Rick

Board Member

1

ACO Participant

Janovitz, Parrillo & Delgado, M.D., P.A.

Roy, APRN

Bryan

Board Member

1

ACO Participant

Southwest Orlando Family Medicine, P.L.

Gonzalez, MD

Jaime

Board Member

1

ACO Participant

Medical Interventions Of Central Florida, Inc.

Joseph, MD

Anthony

Board Member

1

ACO Participant

Anthony P. Joseph, M.D., P.A.

Cintron, MD

Zulma

Board Member

1

ACO Participant

Zulma Cintron, M.D., P.A.

Tamayo, MD

Raul

Board Member

1

ACO Participant

Vitalgenix Health & Wellness, LLC

Mosch, DO

David

Board Member

1

ACO Participant

David P. Mosch, D.O., P.A.

Diamond, MD

David

Board Member

0

Community Stakeholder

N/A

Fasano

Constance

Board Member

1

Medicare Beneficiary Representative

N/A